Home is where the art is: creative collaborations in artist's studio museums
Studio museums offer unique, intimate insights into the lives and inspiration behind some of the world's most famous artists. And, as many of the museums in our network show, many of those stories are tales of mutual love and support between artist couples and collaborators. Here are a few of them...


United Kingdom
Watts Gallery – Artists' Village, Compton, UK
George Frederic Watts (1817-1904) was already a well-established Victorian artist when he built Limnerslease, in Compton, to be his winter home.
He moved here with his wife Mary Seton Watts (1849-1938) in the 1890s, and the couple quickly established themselves at the heart of a local artistic community.
Herself an active philanthropist, Mary Watts devoted herself to creating employment for the people of Compton through traditional craft skills, most notably pottery. From 1898, she began construction of the Watts Chapel (pictured above) with the Compton Potters' Art Guild - a tribute to her husband, whom she always referred to, jokingly, as 'Signor'.
When GF Watts died in 1904, Mary Watts had the Watts Gallery constructed, as a space for her pottery apprentices to find inspiration in her late husband's work. His paintings are still displayed across the Gallery today, along with the Watts Chapel and the newly-opened Limnerslease studio, as part of Watts Gallery - Artists' Village.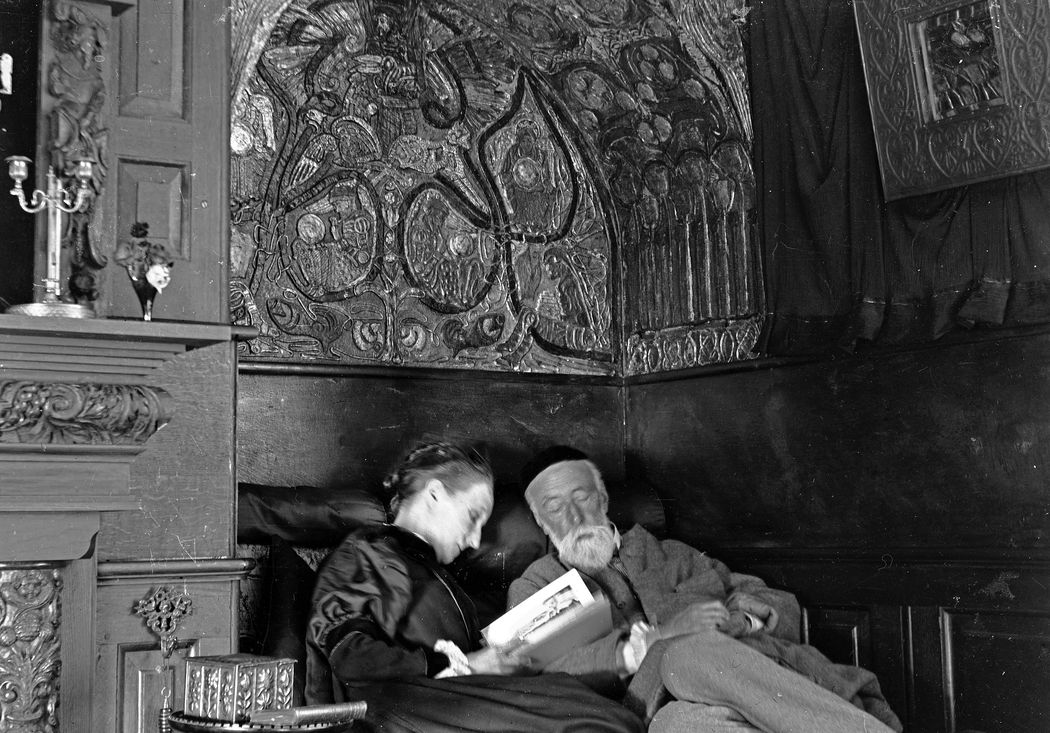 The Hardmans' House, Liverpool
The photographer Edward Chambré Hardman (1898-1988) bought the house at 59 Rodney Street in 1923, with the intention of setting up a professional photography practice. He hired young Margaret Mills as a studio assistant, and the two kept in touch by letter after she went to Paisley to train as a photographer. They married in 1932, and set up the studio together, with Margaret managing the accounts but also taking her own evocative photographs, until her death in 1970.
The Hardmans' House was transferred to the National Trust after E. C. Hardman's death in 1988, at which point it contained over 13,000 objects, including many domestic artefacts spanning the whole of the couple's married life, and a stuffed leopard named Carruthers.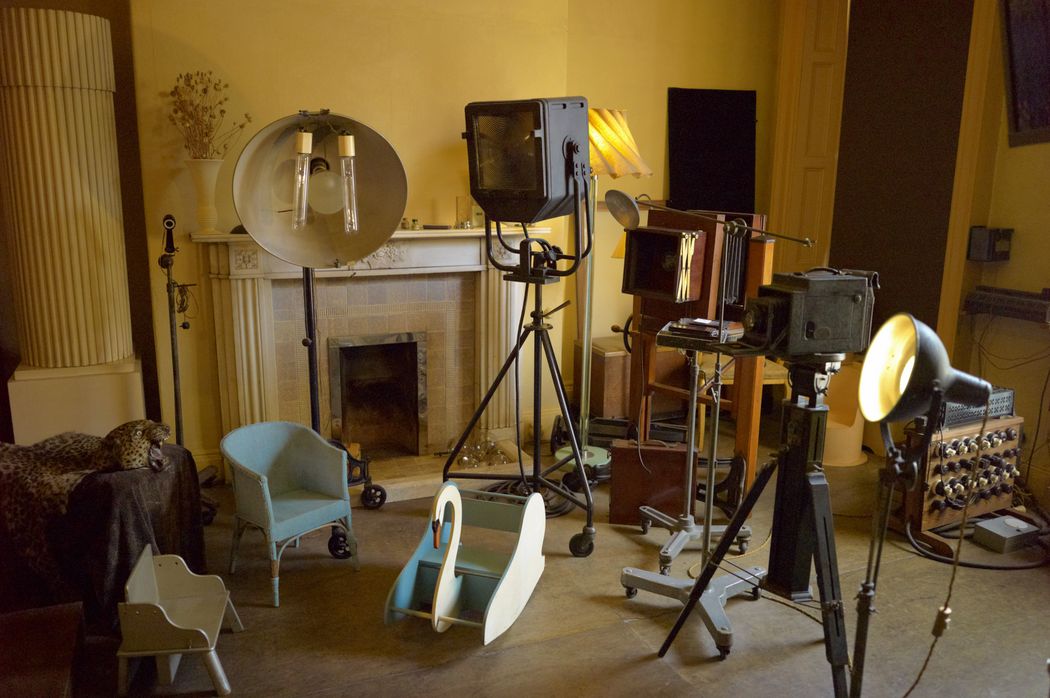 Dorich House Museum, Kingston, UK
The sculptor Dora Gordine (1895-1991) was born in Latvia and lived in Paris before her 1936 marriage to the English scholar Richard Hare (1907-1966).
'Dorich House' was designed by Gordine herself, and the couple used a portmanteau of their names to title it ('Dor-Rich').
The two of them established a significant collection of Russian art and artefacts, for which they made frequent trips abroad throughout their marriage. The collections were carefully displayed throughout the house, along with Gordine's evocative portrait and figurative sculptures
Hare died in 1966, but Gordine continued to live and work at Dorich House until her own death, after which the house and collection were acquired by Kingston University and established as Dorich House Museum.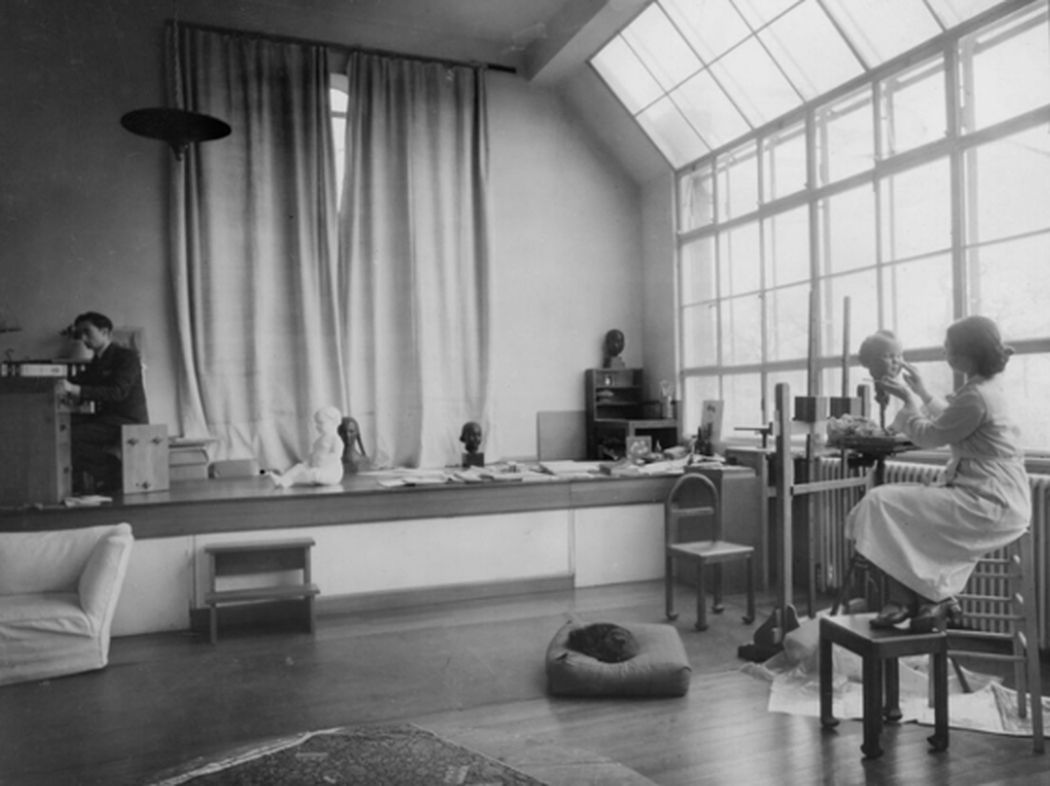 Germany
The Münter Haus, Murnau
Gabrielle Münter (1877-1962) frequently came to the so-called 'Russian House' with her partner Wassily Kandinsky (1866-1944) between 1909-1914, and the building became a joint artistic project for the couple. Kandinsky's frieze of horseman still adorns the staircase, and the layout of the surrounding gardens reflected their mutual interest in folk art and abstraction.
Kandinsky was forced to flee the country in 1914, and he left most of his possessions with Münter at the Russenhaus. She travelled around Europe for a time, before returning to the house in the 1930s with her new partner, the art historian Johannes Eichner. Throughout the Second World War, she kept her major collection of work by Kandinsky hidden from the Nazis behind false walls in the basement, and at her death, she bequeathed it to the nearby Lenbachhaus.
The 'Russian House' itself opened to the public as the Münter Haus, in accordance with her wishes, in 1984.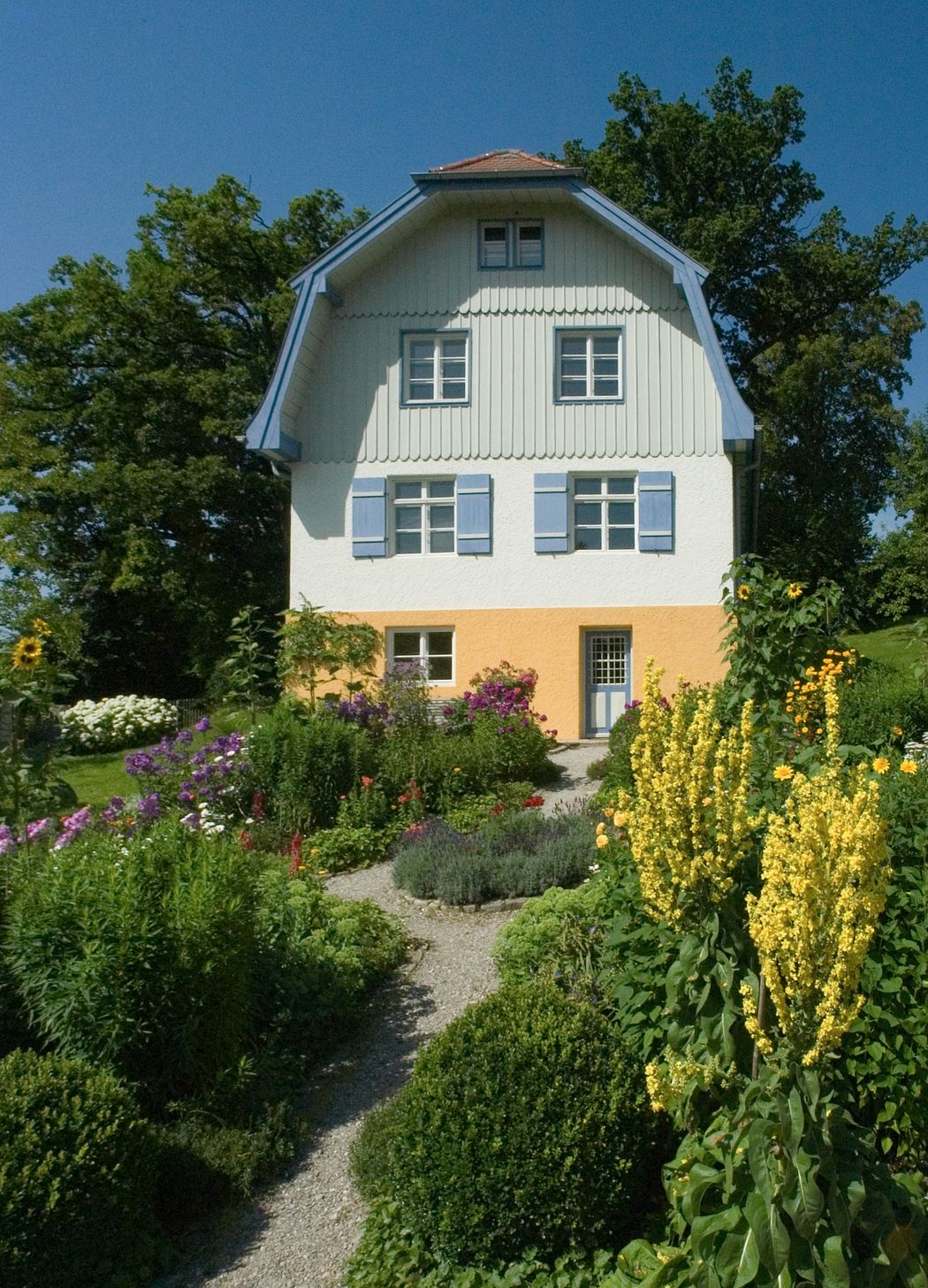 Denmark
Anchers Hus, Skagen
The painter Anna Ancher (1859-1935) grew up in Skagen, in her father's hotel. However, after she married the artist Michael Ancher (1849-1927) in 1880, the couple settled in what is now 'Anchers Hus', a Skagen building that established them at the centre of the community of 'Skagen Painters'. Many of Anna Ancher's works take the house as their subject, but the couple continued to perfect their surroundings throughout their lives, adding a whole studio annexe in 1913.
The Anchers are now celebrated among Denmark's most important painters – they appeared together on the DKK1000 banknote in 2004. Their house became a museum in 1964, after the death of their daughter, Helga.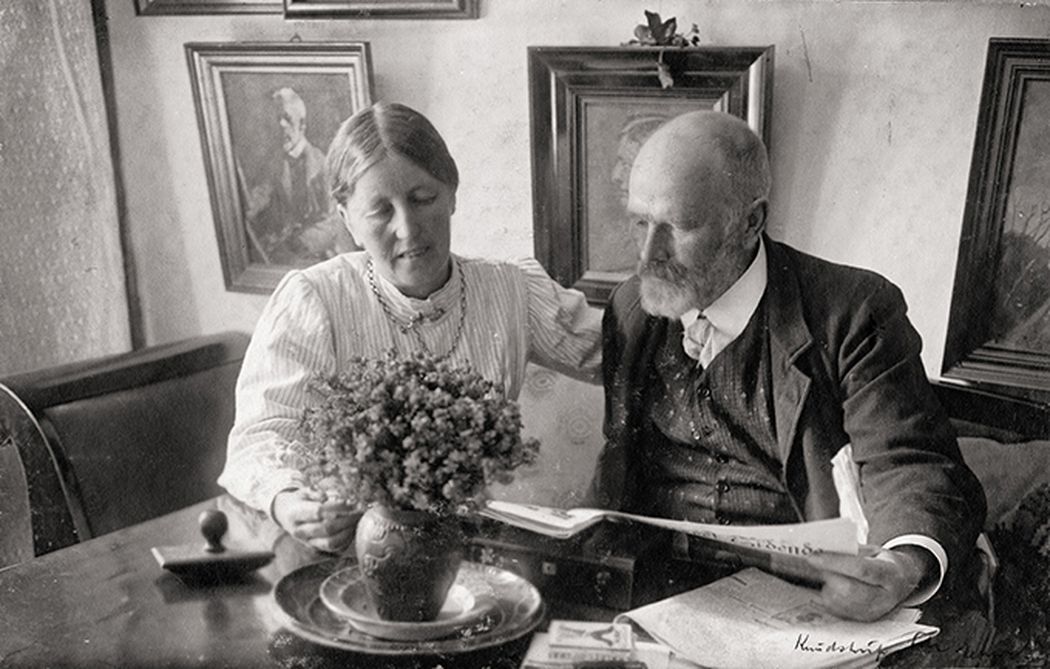 Johannes Larsen Museum, Kerteminde
The nature painter Johannes Larsen (1867-1961) and his painter wife Alhed Warberg (1872-1927) laid the foundation stone for what is now the Johannes Larsen Museum in 1901, on the same day their youngest son Lysse was born.
The stone itself was originally from Hillerslev Church, where the couple had married in 1898. In Kerteminde, however, Johannes Larsen and Alhed Warberg established themselves as part of the colony of so-called 'Furnish' painters, a group of friends, family and couples who shared a passion for landscape and plein air painting.
The villa that Larsen and Warberg constructed became both a focus for their artistic practice – fusing interior and architectural design with wall painting– and a family home that changed as the children grew. The house became a museum in 1986.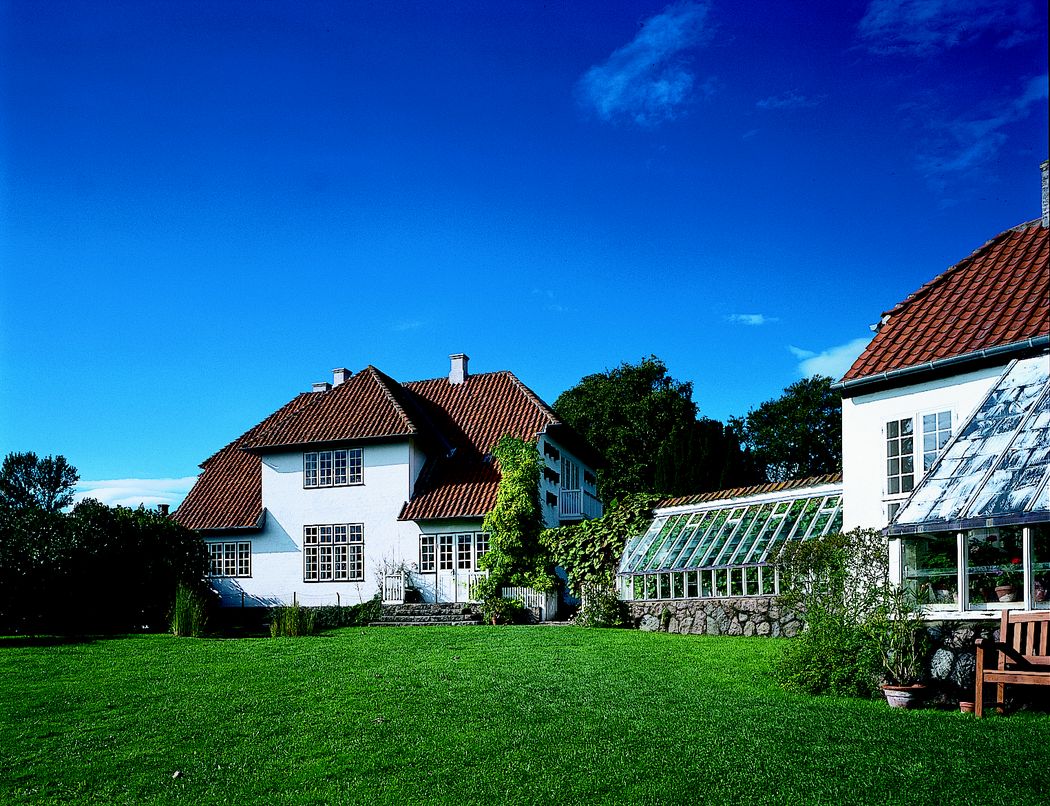 France
Maison Jean Cocteau, Milly-La-Forêt
The poet, designer and filmmaker Jean Cocteau (1889-1963) bought this secluded hôtel particulier in 1947, with his friend, partner and muse Jean Marais (1913-1998).
Marais had recently starred as the Beast in Cocteau's La Belle et La Bête (1946), for which role he had spent five hours a day in make-up, so that every visible part of his body could be covered with animal hair. Cocteau would make Marais the star of his next film, Orphée in 1949.
Cocteau described Milly-la-Forêt as a 'refuge' from the bustle of Paris, where he could spend time with Marais and with his artistic projects. However, he admitted that he missed the city – though he longed for Milly-la-Forêt as soon as he returned there.
Cocteau was buried in what is now the Maison Cocteau in 1998, and the house today displays a rich collection of material relating to his life and work.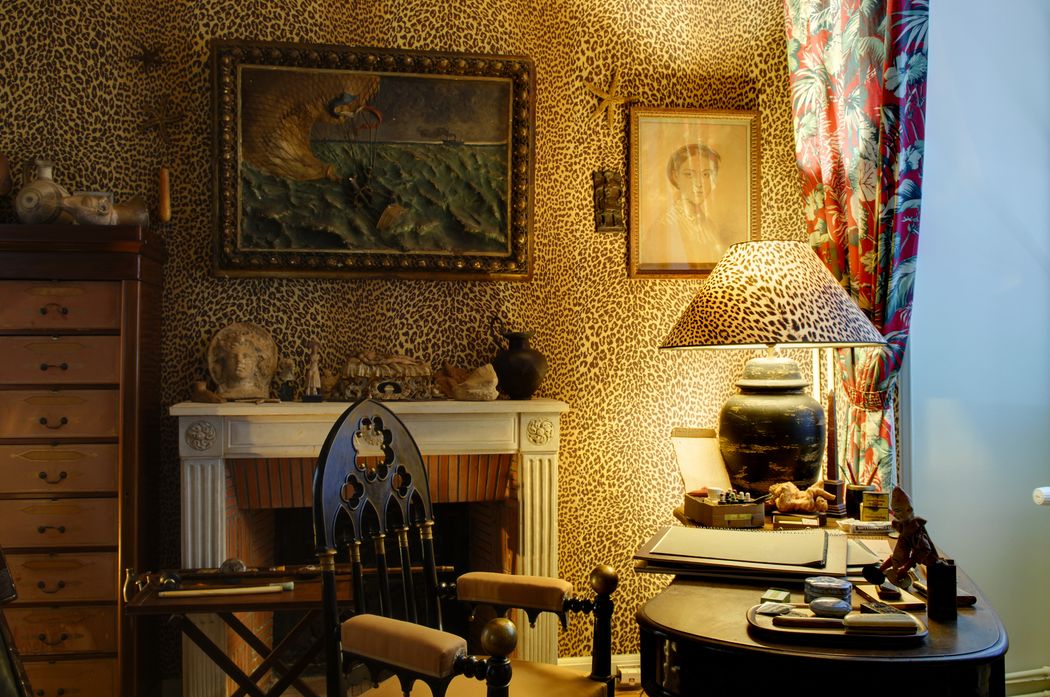 Belgium
La Maison Cauchie, Brussels
Paul Cauchie (1875-1952) and his wife Caroline Voet (1875-1969) met at the Belgian Royal Academy of Fine Arts and decided to built the 'Maison Cauchie' soon after their marriage in 1905.
They only had six metres square in which to do it, but their solution was to make the house extremely long and thin. It was designed to advertise and sell their work as an artist couple – she would teach art, and he would design sgraffito. At the centre of the house were the words 'Par nous – pour nous', establishing it as a joint work emerging out of their personal and professional partnership.
Inside, the house was an entirely collaborative project, decorated with their own paintings, wall coverings and furniture, while from the outside it has become one of the most celebrated Art Nouveau buildings in Brussels.