Meet ceramicist Ashleigh Fisk
What's it like to be an Artist-in-Residence at a studio museum?
Amy Douthett from The Artist's Studio Museum Network spoke to ceramicist Ashleigh Fisk about her experience as Artist-in-Residence at Watts Gallery – Artists' Village, a multi-site venue centred around the home and studios of 'England's Michelangelo' G F Watts and his wife, the designer and artist Mary Watts in the village of Compton, Surrey, UK. The recently reopened Limnerslease: Artists' Home, the Arts and Crafts studio-home of George and Mary, is also the HQ of the Artist's Studio Museum Network.
_
ASMN: Can you tell us what is unique about being an Artist-in-Residence at a studio museum?
Ashleigh Fisk: There's a big difference in working and exhibiting in a historical space rather than a white cube. The title 'studio museum' gives you a clue that this is going to be different because you're working in a space that has influenced art history – and therefore contributed to the context you're working in as an artist.

Working within touching distance of history is very exciting. It has this cyclical element to it of learning and making in the same space. Especially at Watts, because of its history of teaching and making and building the village industry of ceramic craft in Compton. I'm a great believer in spaces archiving energy, and land keeping the energy of times that come before. At Watts that's really palpable. It's a very special space.
The best thing about working in a studio museum setting is that everyone who works there is passionate about it in some way. There's so much knowledge around. I've become friendly with Chris the gardener who is a local, he knows so much about the history of Watts and the land around it from the Pilgrim's Way which runs through the site to local characters and landmarks.
_
"The best thing about working in a studio museum setting is that everyone who works there is passionate about it in some way."

_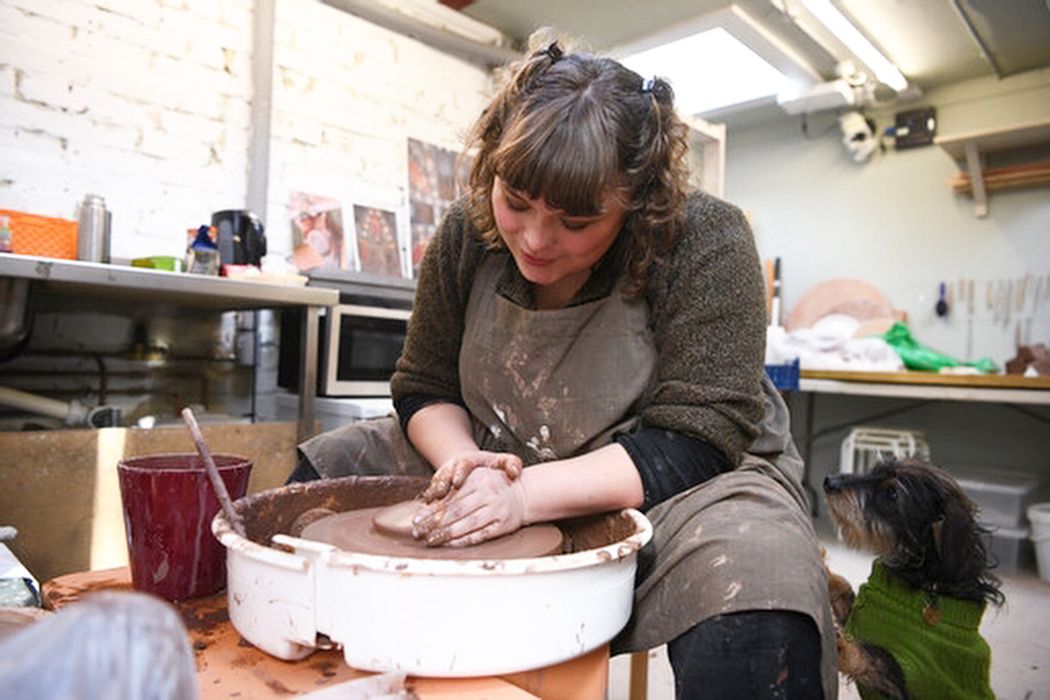 ASMN: As Artist-in-Residence here, you are invited to work in response to the collections and exhibitions. Can you tell us what has caught your eye so far?
AF: I'm the first ever ceramicist in residence, so automatically I had a vein to tap into which had not been explored before, which was very exciting as well as daunting. I knew I wanted to centre my residency on Mary Watts – she's one of many women in art history who are being circled back on and rediscovered.
You can't talk about Mary without talking about her chapel. What's wonderful about it is that it's not something tucked away in the archives. Even given its artistic significance, it's still being used and still has a purpose. And it's in pristine condition! It's exciting to see Arts and Crafts in use because that's what it was all about, art being used, and beautiful things being practical.
Within the chapel there's so much to unravel in terms of the imagery, her influences, and her own life. It's all poured into that. You feel that when you go into her space.
As an Artist-in-Residence, I am very aware of inserting myself into a historical context. I'm trying to stay true to myself and my work, and see how the archive influences me rather than just making work about the archives.
_
"I'm trying to stay true to myself and my work, and see how the archive influences me..."

_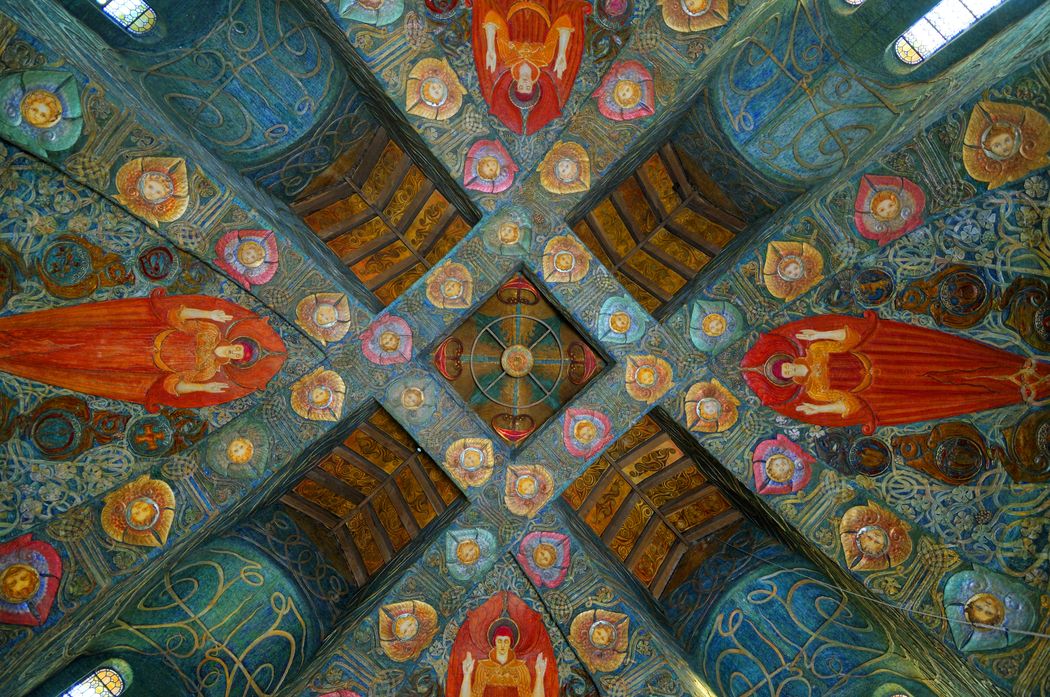 ASMN: Can you tell us a bit more about your connection with the work of Mary Watts?

AF: I just graduated from Slade and Mary was one of the first women to go to Slade when they started to accept women, so there's a really nice connection there. I was born in Guildford which is near to Watts Gallery. And most recently I've been fabricating some work for a potter which is currently for sale at Liberty and Mary also sold work at Liberty for many years. We also work within similar themes of the natural world, mythology and craft histories, so there are these uncanny connections between us as people and artists and craftswomen, as well as within our philosophies of making, working and arts education.

It can be difficult to engage with historical figures in art history because you'll never really know that person, and there's a danger of idolising them or making assumptions based on your own pre-existing bias. But a lot my work is about fictionalising or creating narratives around history and historical figures; scrutinising the thin line between history and mythology. So it has been interesting working so closely working with Mary in a historical context, as well as with the somewhat fictional version of Mary that only exists in my head. It's a very complex, introspective way of working with a dead person, but I always find myself looking back at the chapel and her works, as they are (and a lot of artwork is) autobiographical in a sense. Her work always centres around her heritage, her family, nature and her faith -- this is where you see Mary most clearly.
ASMN: Are there any particular challenges when working on a heritage site?

AF: Working in an established studio museum with an archive like this one is unique. As an outsider, you don't want to intrude too much, you're aware that you're coming in for a brief time to touch on that archive's history. I think what Watts does well is encourage contemporary artists to engage with their archive. Arts and craft history does not stop in the past, it's very much continuing.
I thought it would be lovely to try and make something dedicated to Mary, so I came up with an idea of making a grotto for her home in the Limnerslease garden. I read her diary, and tried to do as much research as possible to find a restful place that would have appealed to her. I wanted it to be off the main path, away from hustle and bustle of the museum attractions. But of course there are challenges in creating a permanent work on a listed site. As with any heritage site, there are questions about what to preserve as pure history, and where to make interventions. It's a fine line to walk. But if it's meant to happen, it will happen.
_
"As with any heritage site, there are questions about what to preserve as pure history,
and where to make interventions."

_
ASMN: Mary Watts held pottery classes in the drawing room at Limnerslease which were attended by local villagers. Can you tell us a bit about your own experience running community workshops here at Watts?
AF: Yes, part of the residency involves community outreach. My plan is to use the community engagement workshops to make multiples of terracotta tiles for the Grotto project, using Mary's workshops with the villagers as a model. The tiles are based on Mary's designs, remade in a smaller way, and I'll be working with today's Compton residents, staff at the museum, and as many other different groups as possible. Most of the designs are Mary's, but I've also used other local influences like design details from the Compton potters' garden pieces, especially their bird baths and sun dials.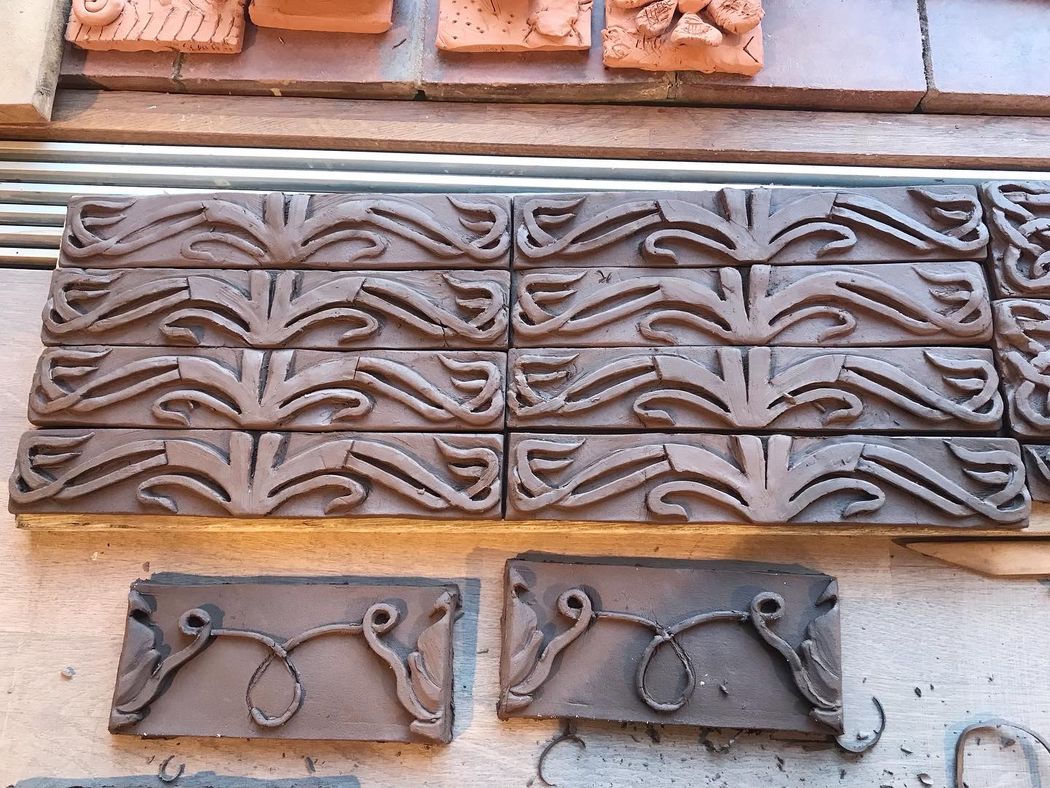 ASMN: You mentioned the Compton Potters. This was an Art Guild that Mary established in 1900 following on from the success of her pottery classes; it provided employment in the village of Compton until 1956. What is it about their work that appeals to you as a ceramicist?
AF: The Compton Potters made a lot of fantastic gardenware, and I have a personal interest in that area. Before this residency, I worked for an organisation called Hoxton Gardenware in London which was set up by Aaron Angel who is a brilliant ceramic artist. It's based on the arts and crafts philosophy of cyclical teaching and learning, apprenticeships, and guild learning. Most of the people that came in to be taught were local. It's a very inclusive space. That's where I formally learnt to throw. Throwing is a very specific skill, so I was lucky to be part of setting up that company, learning to throw while making products and starting to teach. It was nice to be part of a new grass roots contemporary ceramic company.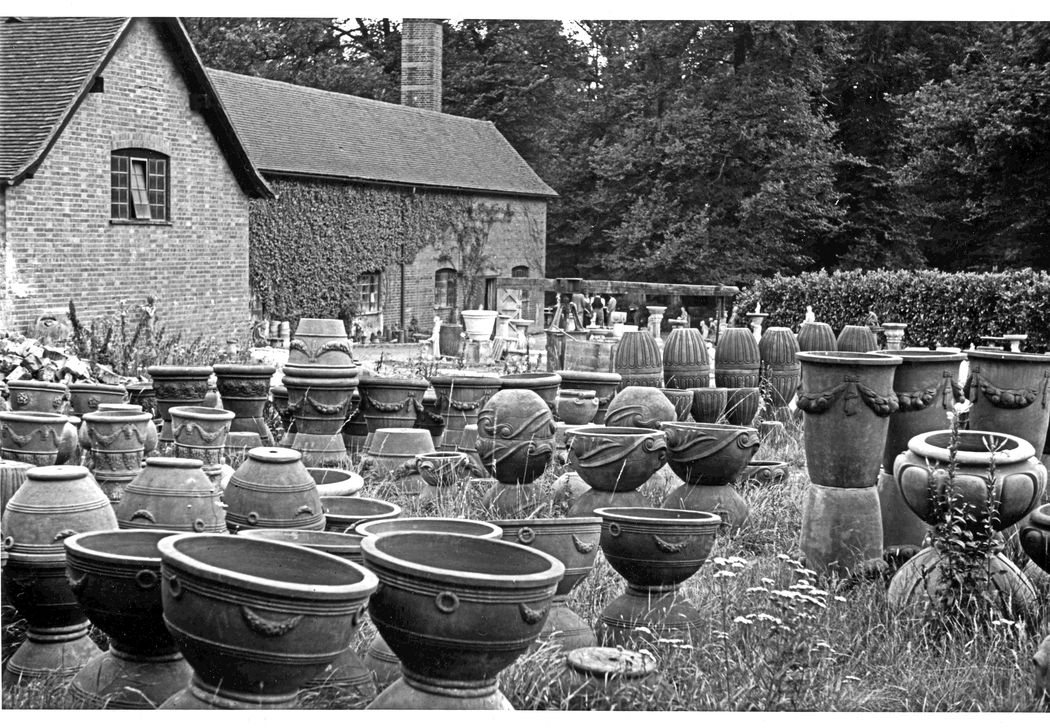 ASMN: Do you have any practical advice for studio museums who might be considering starting up an Artist-in-Residence programme?
AF: Be prepared! Watts had a small pottery set up, but even so, as the first potter in residence I had to advise them on what I needed to make my work.
What I'm learning from Watts now is very much setting me up for future endeavours in my own practice, and I'm very grateful for the hand holding. They have been very supportive.
ASMN: Any advice for artists considering applying for a residency?
AF: Artists apply for residencies for very different reasons, but my advice would be to make sure you show in your application what you can bring to that institution and how you will be working with their archive. There needs to be something you can engage with, whether that's aesthetic, physical, emotional, personal, there needs to be a catalyst for you being there and for you contributing to their history.
You have a very short time as a resident artist – I'm here for six months which is quite long for a residency programme – so you need to be able to hit the ground running.
ASMN: Do you have a favourite object or artefact at Watts?
AF: Because it's a historical site there are lots of objects dotted around the garden like bird baths, pots and terracotta benches. There's a particular holly bush just outside the gallery that's been planted in the centre of a ceramic ring and grown up inside it. That's what I love about ceramic art, it can be outdoors and weathered and survive and remain pristine – or covered in lovely green moss.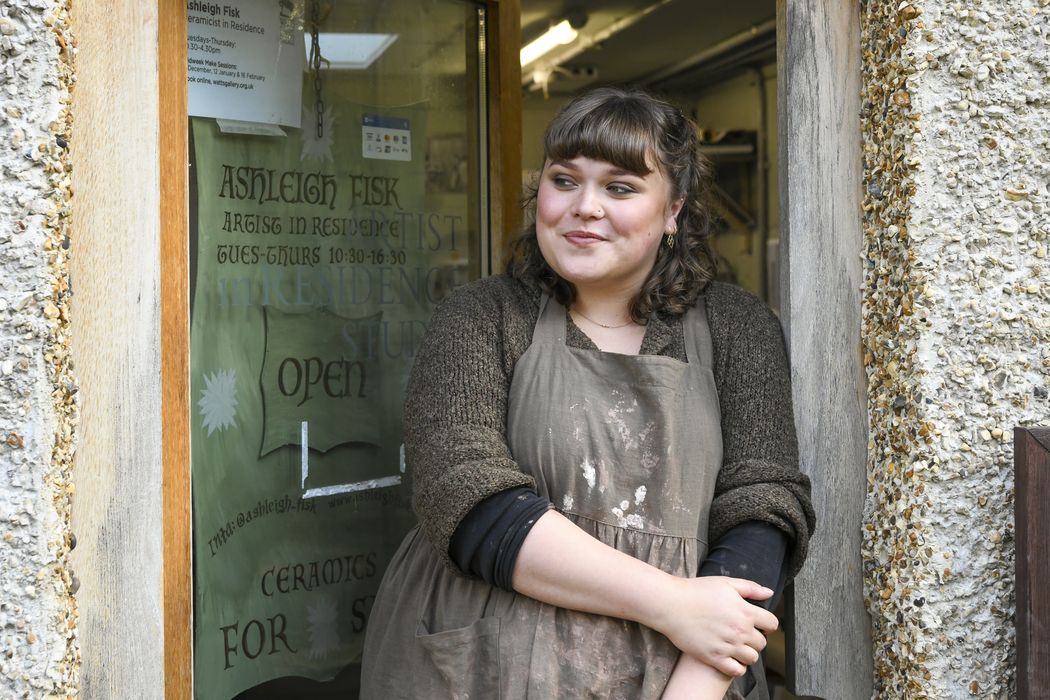 ASMN: If you could be magically transported to any studio museum in the Network which one would you choose?
AF: There are so many I could choose! Some of my favourite places are in the Network: both Charleston and Farleys House and Gallery are down the road from me in Sussex. Then there's Leach Pottery of course, you can't work in ceramics and not love Leach, and Hill Top which I've visited many times as Beatrix Potter is a hero of mine. The Barbara Hepworth Museum and Sculpture Garden is also a favourite, she was another Slade graduate and a powerhouse of a woman.
But of the places I haven't visited, I'm really intrigued by Merz Barn, it looks very lush and isolated, a place where seasons and nature rule which is unusual for a museum space.
ASMN: What's next?
AF: That's never a simple question with arts careers! There's always the balance of making money to live and making your work. I'm going to be doing lots of applications for funding –places like New Contemporaries – as well as making lots of pots and teaching. I'm passionate about arts education. Luckily, I enjoy seeing where the wind takes me and meeting people along the way.