The artist's studio as 'Gesamtkunstwerk'
The traditional image of the artist's studio is as a dedicated space within a larger building – a quiet retreat in which to find inspiration and work in peace. However, several of the museums in our network preserve examples of artists expanding their work far beyond the studio space, into the realms of what has been called the 'Gesamtkunstwerk', or 'total artwork'.

Though originally associated with the composer Richard Wagner (1813-1883) and therefore with nineteenth-century developments in opera, the term 'Gesamtkunstwerk' has since also been applied to certain types of (particularly) architectural space.Usually, these are spaces where the artist has asserted control over several different elements, from architecture to design, encompassing furnishings, lighting, textiles and installed artworks.
However, these spaces take on a particular significance when the 'total artwork' is also an artist's studio, with the artist working within them and on them at the same time, and often over a number of years. Here are some of the most striking 'total artworks' in our network.
-
1. 575 Wandsworth Road, London, UK
Khadambi Asalache (1935-2006) spent nearly twenty years developing the interiors of 575 Wandsworth Road, which he declared 'finished' in 2005. Originally intended as a device to hide creeping damp from the launderette next door, the elaborate fretwork began in the kitchen and spread throughout the house, developing as part of several distinct campaigns of work. Almost all the wood was reclaimed from local skips, which Asalache carved in the garden or on the kitchen table before attaching it to the walls.
The completed work is an elaborate fusion of African and European influences, combining carving, lighting design, painting and interior decoration, including postcards of paintings such as Botticelli's 'Primavera'. A philosopher of mathematics, Asalache ensured that there was no symmetry anywhere in the house; as he noted, 'there is no symmetry in nature'.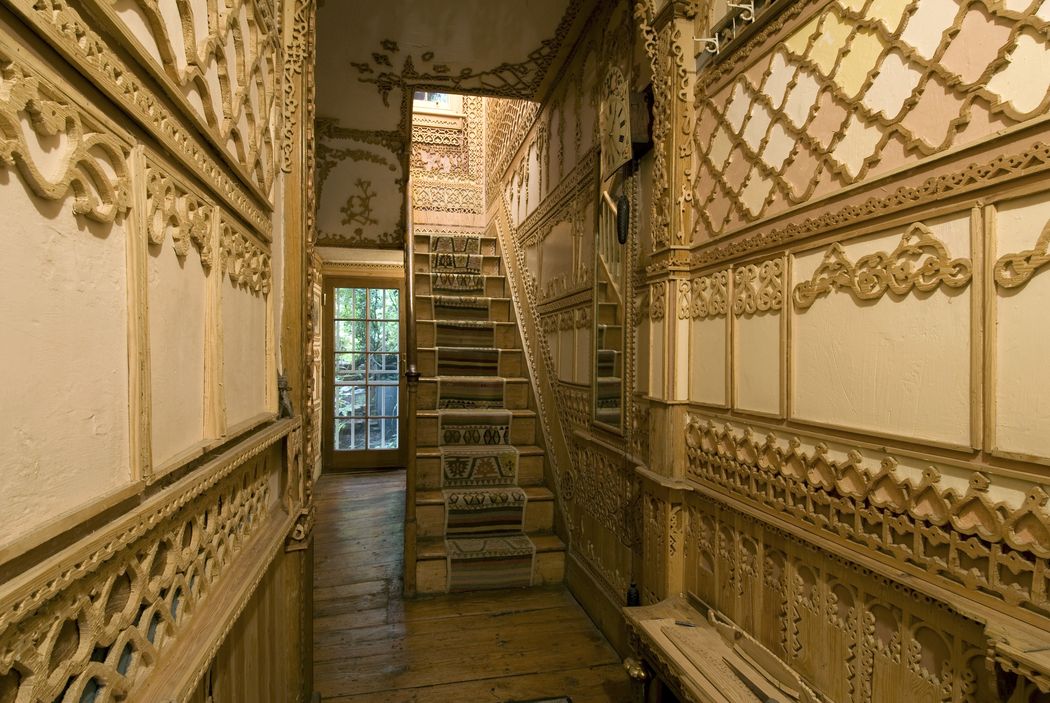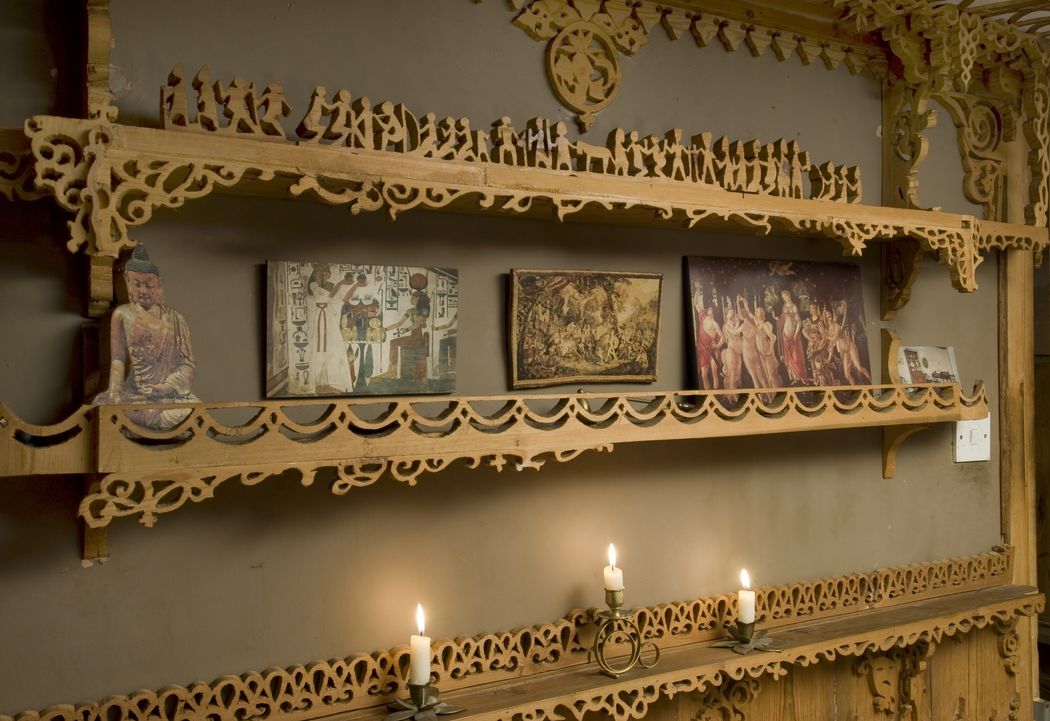 The Swiss artist Johann Michael Bossard created this Expressionist 'visionary environment' in collaboration with his wife, and former pupil, Jutta Kroll-Bossard. Having acquired the land in 1911, they spent over a decade developing both the interior and exterior. Outdoors, a monastery garden and avenues for promenades alluded to earlier landscaping traditions, while inside, the building was dominated by Bossard's decoration, including purpose-designed furniture, textiles, murals, sculpture and even crockery.
The project culminated in 1926-29 with the construction of a 'Temple to the Fine Arts' which was open to the public, making the site in Lower Saxony one of the most fully realised examples of an architectural Gesamtkunstwerk in Europe.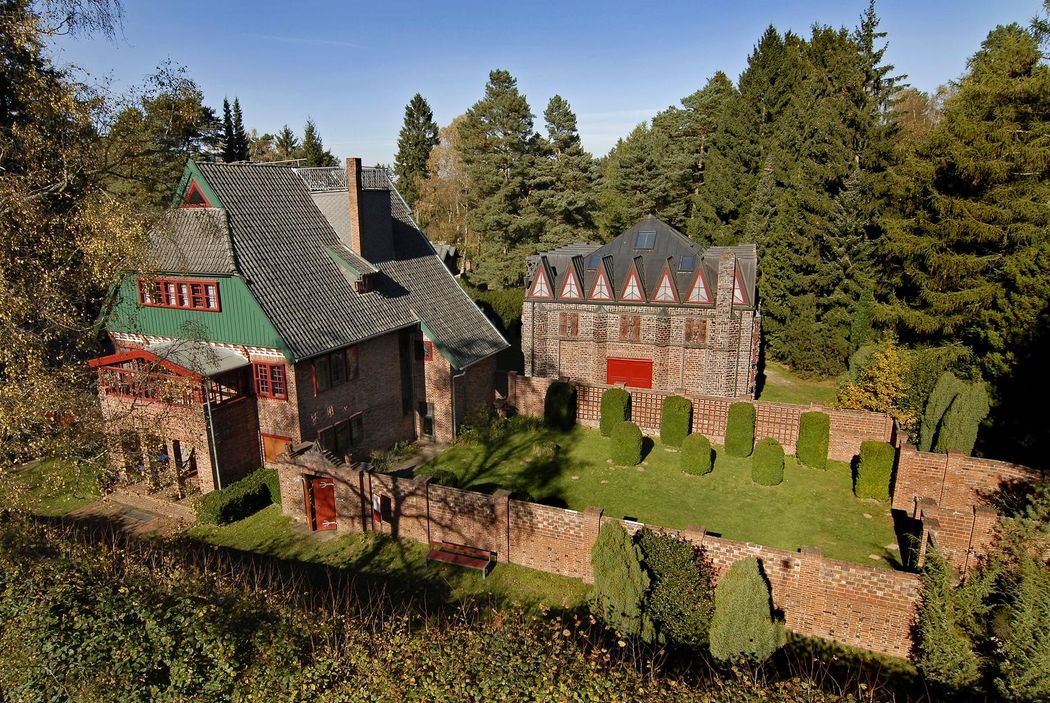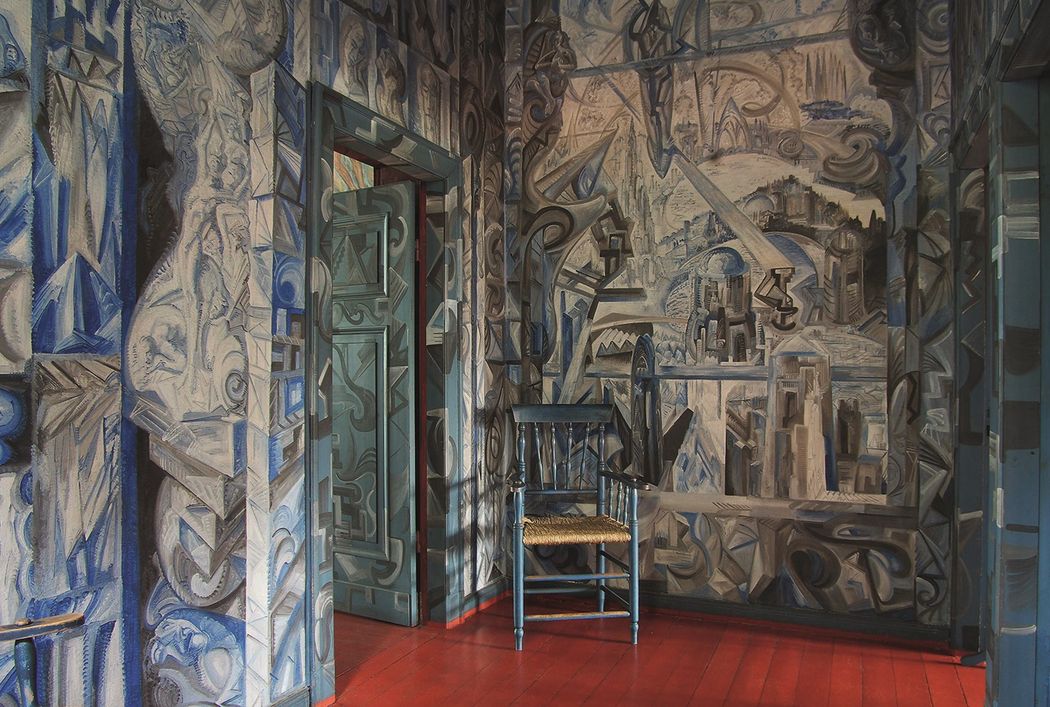 3. Musée Robert Tatin, Cossé-le-Vivien, Mayenne, France
The painter, sculptor and ceramicist Robert Tatin began work on his 'Maison des Champs' in his birthplace town of Mayenne in 1962. Conceived as an artistic fusion of East and West, and developed in collaboration with Tatin's wife Lise, the project combines the domestic environment of the couple's home (and Tatin's studio) with a series of elaborate garden constructions, each with their own underlying decorative and symbolic concepts, intended as a public museum.
The 'Gate of the Giants' is a high relief of Tatin's five artistic inspirations – Rembrandt, Van Gogh, Leonardo, Goya and Delacroix – while the Giant's Alley is dominated by concrete sculptures alluding to stories from mythology and history. At the centre, the 'Dragon' forms the symbolic entrance to the 'Maison', standing as sentinel, and guardian of knowledge.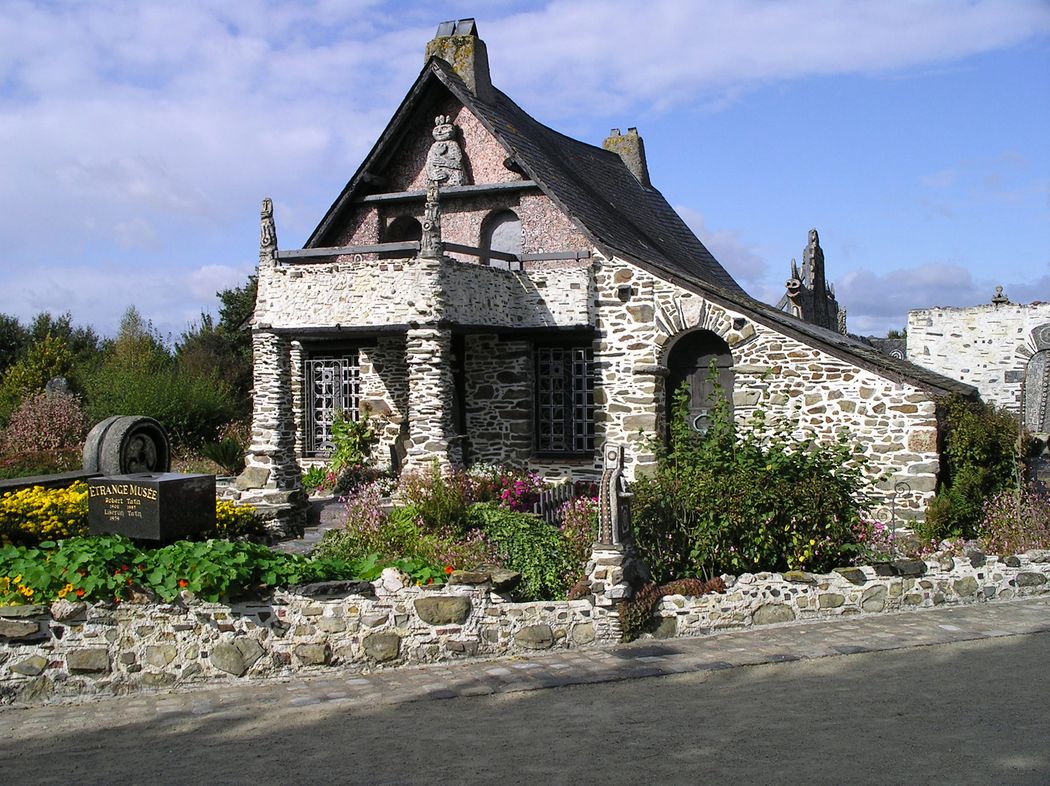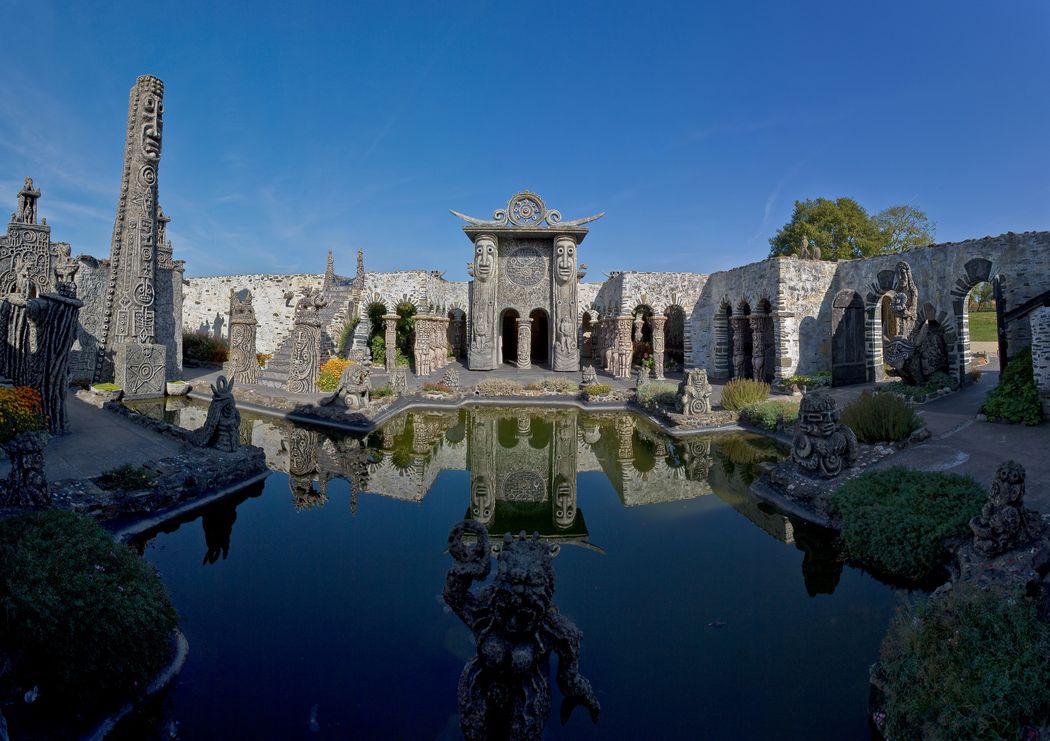 4. Flat Time House, London, UK
John Latham was a relentlessly experimental conceptual artist who, in 2003, cdeclared his small terraced home in South London a 'living sculpture'. Each of its rooms was assigned an attribute of the human body, with the kitchen, living room, bedroom and bathroom representing the internal organs and a large installation protruding from a glass frontage into the street as the 'Face'. The building was conceived as an expression of Latham's cosmological theory of 'Flat Time', and renamed 'FTHo' as an allusion to this.
Flat Time House was always accessible to artists during Latham's life, and after his death in 2006, it was decided that the space should remain a public gallery. Rather than preserving the original interiors as Latham left them, the house therefore continues to function as a 'living sculpture', reflecting the artist's original conception for the space.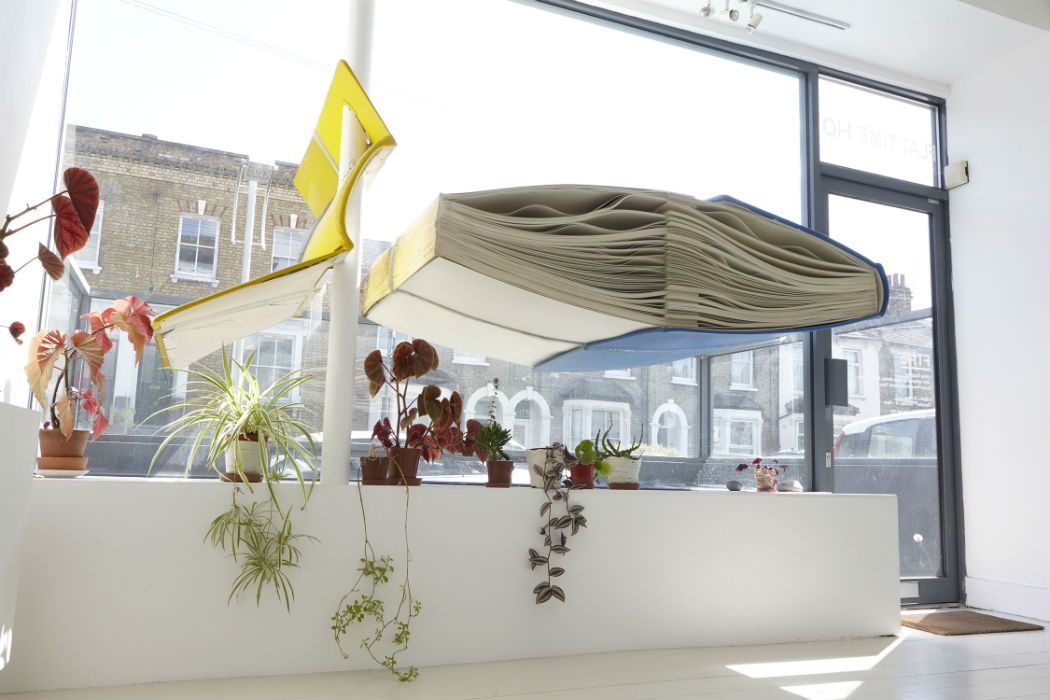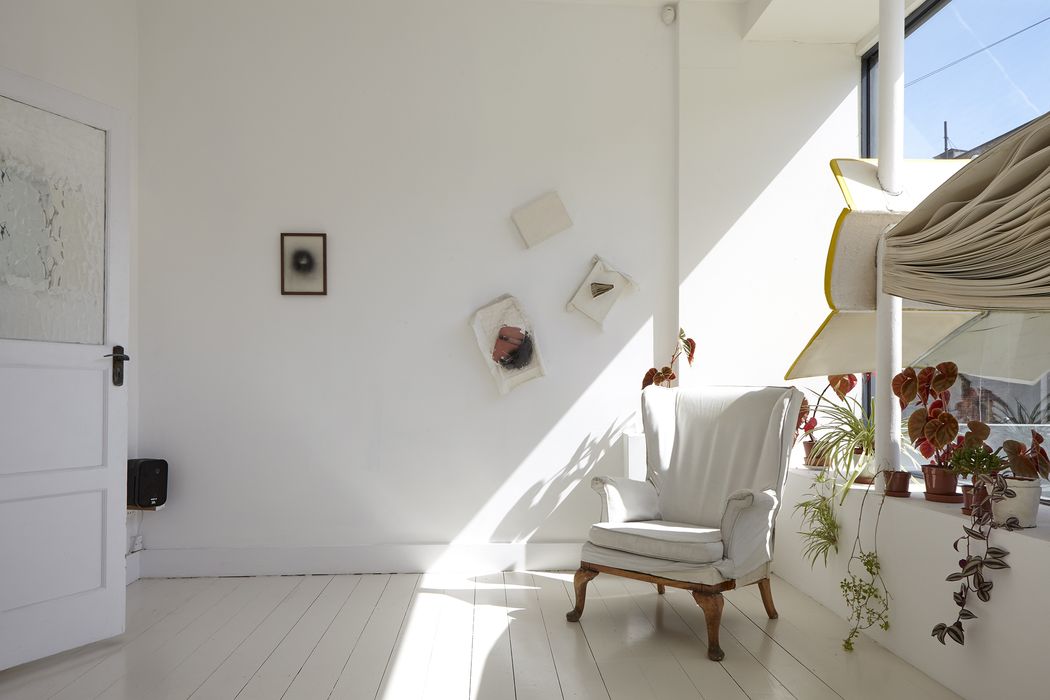 5. La Maison Cauchie, Belgium
Set on just six square metres of land in Brussels, La Maison Cauchie was conceived as a domestic space and studio, but also as a public advertisement for the artist couple who lived there. Paul Cauchie was primarily a sgraffito artist and decorator, while his wife Caroline Voet was an art teacher. They designed the tall frontage of the house as a kind of billboard that would demonstrate their artistic skills, with the legend 'Par nous pour nous' establishing its double status as both domestic and artistic space, and underpinning a dense allegorical schema.
Inside, La Maison Cauchie was designed entirely by Cauchie and Voet, decorated with their own paintings, wall coverings, furniture, and decorative arts, a demonstration of how all branches of the arts could be harmoniously joined together.